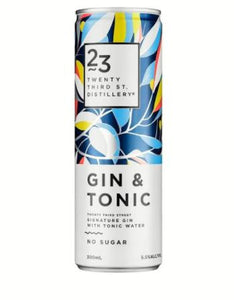 Vibrant, dimensional and sparkling. A tonic for the more demanding palate. Classic bitterness and a calculated hint of sweetness hum along with the Riverland citrus and aromatics of Twenty Third Street's Signature Gin. Authentically refreshing and crafted with no sugar and only 87 calories.
Standard Drinks: 

0.4

Packaging: 

Can

Alcohol Content: 

1.3%

Region: 

Riverland, Australia

Brand: 23rd Street
By purchasing this product you confirm you are over 18 years of age, and the recipient is over 18 years of age.