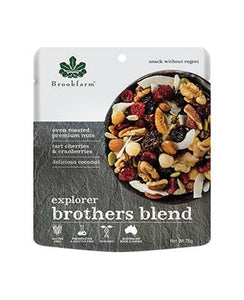 The combination of roasted Australian almonds, pecans, walnuts, tart sour cherries, cranberries and roasted coconut makes this mix unbelievably delicious. Whether it's sharing time with family and friends or packing for your next adventure, this new mix from the Brook brothers is perfectly blended. The Brothers Blend Explorer mix will take you to those special places, anytime, anywhere.
This premium blend was recently awarded a Silver Medal at the Royal Hobart Fine Food awards.  It is also:
Paleo/ vegan / gluten free
All natural preservative and additive free
A little addictive & supporting Australian farmers.