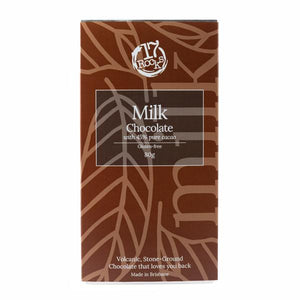 17 Rocks Chocolates' delicious 45% Milk Chocolate bar is the classic flavour you know and love; the perfect treat for the chocolate purist. 
Ingredients: Cacao, Milk, Sugar
80g bar
No soy or gluten
All of 17 Rocks' products are completely free of any and all artificial sweeteners, preservatives, and additives. They roast, grind and refine their beans using traditional techniques and combine them with 100% real ingredients to give you chocolate that truly loves you back. Australian made, owned and operated. 
17 Rocks Chocolates is Brisbane's first single origin, bean to bar chocolate manufacturer.